Chris Martin gave a solo performance at LA's Hotel Café on Tuesday night (5th November) during a low-key set, and unwittingly put on a comedy show to boot. More discussion on this performance is at the Coldplay forum and also the multimedia forum where you can download the best and latest versions of the songs performed. Read on for reviews, photos and videos… [thanks jeremyy, teernabh5, gai, wabbit, Coeurli, wisna, 563JD, play, Comicforce]

Writes ContactMusic: "Chris can be seen in one video settling down behind his piano to applause and beginning to play the first few bars of Clocks – however, he hits a wrong note and rather than styling it out and carrying on he stops playing. "Let me just preface this by saying I might be a little rusty on this one and I'm missing my band which is sad, y'know?" He tells the audience, who are laughing raucously. "I have to practice this because on Saturday I'm doing a concert in New York with Michael J. Fox for his Parkinsons charity and I get to play songs from 'Back To The Future' with him. Which is great for me because that's what got me into music and without that film there wouldn't be this song."
He kicks into the performance again and makes it into the first verse but this time he stops because he thinks he's got the words wrong. He rustles about in his music sheets before deciding that he actually got the words right. The crowd begins to laugh more and Martin pleads jokingly: "Please don't put this on YouTube – I know someone already fucking has!"
After finally managing to finish 'Clocks,' Chris picked up his guitar and gave a performance of his "favourite Bob Dylan song," 'Simple Twist of Fate,' and returns to his comfort zone with a performance of 'Viva La Vida' and 'Atlas'. Chris is about to play 'Paradise' when he realises that he has forgotten to tune a guitar. "I haven't tuned my own guitar since 1986," he admits sheepishly whilst twanging away. After several fruitless attempts, he is forced to give up and ask for another guitar. With little more luck with this one, Chris has his original guitar handed back to him and he settles for an intimate performance of 'The Scientist.'
Oh you know, just the usual. Seeing Chris Martin play to 100 people at Hotel Cafe. @coldplay… http://t.co/Bi49OCIJb5

— Boulevard Recording (@BlvdRecording) November 6, 2013
Coldplayer play said: I WAS THERE I WAS THERE I WAS THERE! possibly the best night of my life… he played a cover song earth angel and asked if it was alright i said good enough and he said thanks and laughed! and then I said hi to him outside the venue and he was super super nice and asked me some questions and just was unreal unreal.
One fan online said: "He did "clocks" "the scientist" "yellow" "vida la vida" a song that will be in the new hunger games movie a cover of "earth angel" a bob dylan cover and one other song that i didn't know. it was pretty special. he was totally sweet and endearing and REAL. he forgot the lyrics to "clocks" and had to start over – asked people not to put it in youtube and then joked that it was probably already uploaded. he started the set by saying he'd just moved to LA and wanted to make some new friends it was also a warm up set for a benefit show coldplay is doing honoring "back to tech future" with michael j. fox. it was an all around magical tuesday night surprise – and btw, totally secret. we got there about 15 minutes before he started thinking it would be a mob scene and walked right in – i got to stand toward the front and enjoy the set – it was super mellow and rad – like he was playing in someone's living room."
1 guy from Coldplay. 150 people at Hotel Cafe. Still not sure how I lucked out to be one of them.… http://t.co/XgeAnfGU8b

— Lindsey Dupuis (@LindseyDupuis) November 6, 2013
Blog Steamy in the City said: "Chris started playing his first song, a cover of "Suzanne" by Leonard Cohen, (we may or may not have cried) and we soon realized that almost everyone else in the venue knew exactly what was coming. We were completely caught off guard and that made the experience purely magical. We thought back to when we arrived at The Hotel Cafe and the doorman asked who we were there to see– we replied "Among Savages! We are so excited!" Looking back now, he was probably really amused by how oblivious we were!
Chris Martin was unbelievable. He played this incredible new song Atlas, classic song covers, and some of the greatest Coldplay songs from Parachutes, A Rush of Blood to the Head, and Viva La Vida. Chris was incredibly charismatic– it was amazing to see him in such a relaxed environment. Between songs, his on-stage banter was so witty and he had everyone in the room laughing. At one point, he was having trouble tuning his guitar; he said, jokingly, "I haven't tuned my own guitar since 1986!" Chanele yelled out "I believe in you!!" to which he responded (yes, Chanele spoke with Chris Martin) "Thank you. I guess belief is all you need."
Atlas:
Simple Twist of Fate (Bob Dylan cover):
The Scientist:
Viva La Vida:
Clocks: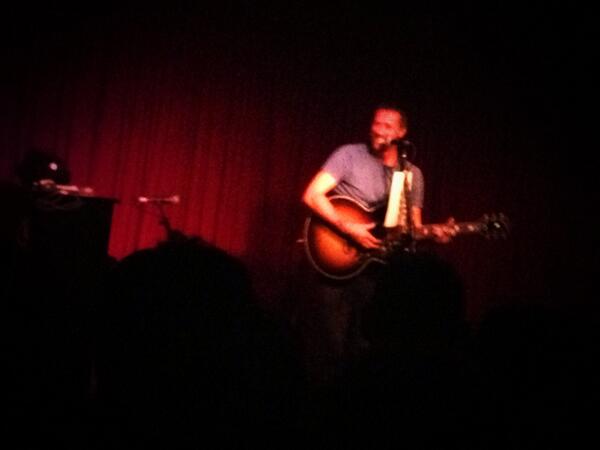 Coldplayer comments...