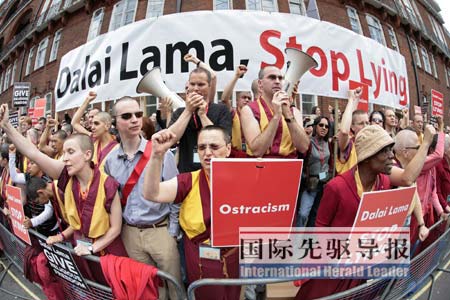 Photo By AFP (Agence France Presse)
Dalai Lama was accused of Religious persecution
April 13, 2008
In the Tibetan school, Bylakupee(In India,NOT Tibet), Tibetan students were asked to give signatures that they never worship Shugden, and also to pledge that they will never share religious and material amenities with Shugden people. 20 students refused to sign and pledge. So they face danger of expulsion from the school.
In the three different camps at Bylakupee, the signature and oath campaigns were carried out. It was presided by abbots of Sera and the Dalai lama's representative.
The situation is getting worse. And more miserable and suffering shugden devotees.
In 1996, the Dalai Lama said the worship of Dorje Shugden was banned .but for the protestors, the ban is unfounded and oppressive
As i konw,2 ASF reporters was hurt by Dalai Lama's adherent ,because they interviewed Kundeling Rimpoche,who's the leader of Shugden devotees.
Dalai Lama sure controls a lot of people,but most of them are illiteracy......